RUN FOR SINGAPORE CONTEST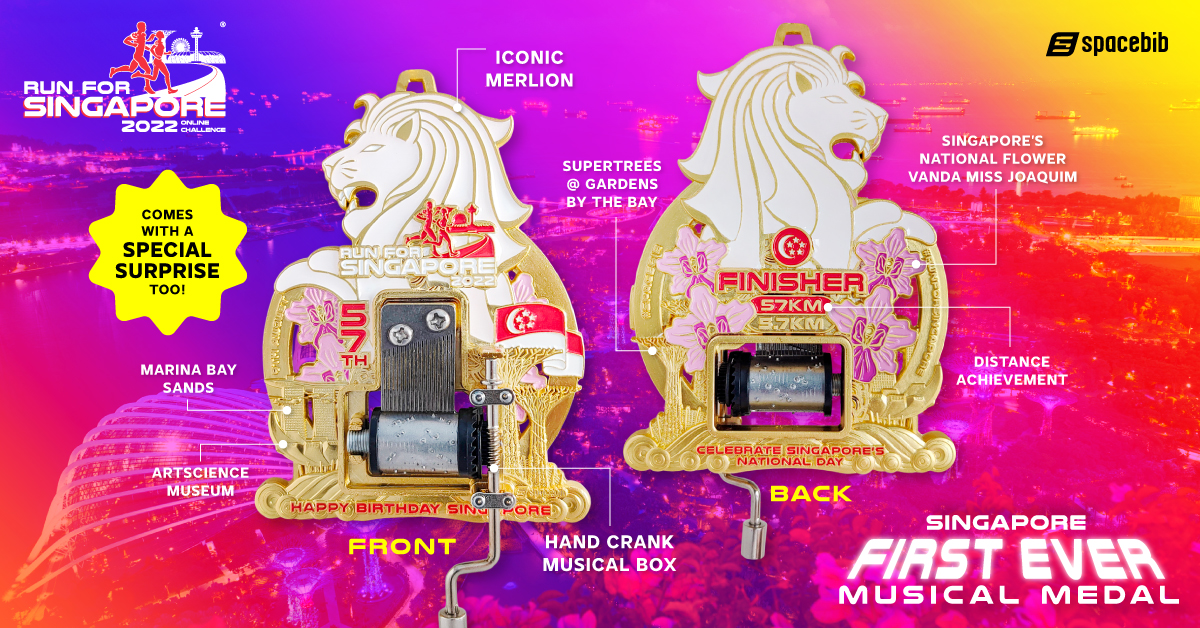 Be Part Of OUR National DAY Celebration
To celebrate this year's National Day, we are inviting all Singaporeans to be part of Run For Singapore 2022.
Simply share a video clip of you singing the recommended featured song, "Home" or any Singapore national day song (at least 15 seconds) to participate!
By participating, you stand a chance to:
(1) Be featured in the Run For Singapore montage video and
(2) Win a celebratory Run For Singapore 2022 Gold Musical Finisher Medal! (worth $49)
You can sing the chorus of "Home" that is featured on our Run For Singapore 2022 Musical Medal
Follow these 4 easy steps to be eligible for the contest:
Step 1:

Record a video clip of you singing the featured song, "Home" or any Singapore national day song (at least 15 seconds)
Step 2: Post your video on your Facebook, Instagram or Tiktok profile,

Remember to tag Spacebib

and use hashtags

#RunForSingapore #Spacebib

Step 4: Set your profile/post to public so that we can view your video.
Submission Period
From 4 July 2022, 12pm to 26 July 2022, 12pm
Increase your chance of winning!
The criteria for the best video is based on the following aspect:
Creativity
Performance
Song selection
Notification of Contest Winners
5 winners with the best video will be selected and contacted after the end of the contest via email (hello@spacebib.com).
*Contest is open to anyone residing in Singapore only. Terms and conditions apply.

Share this contest with your family and friends to win together!
Run For Singapore Contest Terms and conditions
1. By entering the contest, you confirm that you have read, understood and agree to be bound by these terms and conditions, including any amendments thereto (the "T&Cs").
2. The Organiser reserves the right to amend the T&Cs from time to time, and modify, cancel or suspend the Contest at its sole discretion at any time. Notice of any such amendments, cancellations or suspensions will be posted on this website.
3. Each participant can post as many entries as they wish. You represent and warrant that the entry posted by you and all its content is original, and that you have the necessary rights and permissions to post the same.
4. All decisions by the Organiser relating to the Contest are final. The Organiser is not obliged to provide reasons concerning the selection of the Contest winners or entertain any appeals whatsoever.
5. If any winner cannot be contacted by the Organiser or unable to receive the prize, the Organiser reserves the right to forfeit the prize, and the originally selected winner shall not be entitled to any payment or compensation from the Organiser.
6. Winners will be required to provide personal information as may be requested by the Organiser during collection of prizes. (Including but not limited to, winners' full name, mobile number, shipping address and email address, etc.)
7. Acceptance of any prize shall constitute consent on the winner's part to allow the use of the winner's name, photo, image, voice and/or likeness by Spacebib for editorial, advertising, promotional, marketing and/or other purposes without further compensation except where prohibited by law.
8. Prizes are non-negotiable, non-transferable, non-refundable, cannot be exchanged for cash or sold. Unless otherwise stated, the winner is solely responsible for any and all taxes and/or fees as well as all additional costs that may be incurred in relation to the acceptance of the prize.
9. The Organiser reserves the right to disqualify any winners, forfeit and/or reclaim any prize at any time if the Organiser deems that there has been a breach of the T&Cs by any winner, whether discovered during or after the Contest Period.
10. The Organiser may in its sole and absolute discretion substitute, withdraw and/or cancel any prizes or make changes to the value and/or number of prizes at any time without prior notice. The Organiser is not obliged to provide reasons and shall not be liable for any payment or compensation to any person due to such changes.
11. The Contest is in no way sponsored, endorsed, administered by, or associated with Facebook/Instagram/TikTok, and you agree to release them from any claims. You are responsible for complying with the terms and conditions of these platforms and the Organiser shall not be liable in any way whatsoever for such account and usage.
12. By entering the Contest or accepting the prizes, You agree that no claim relating to such losses or injuries (including special, indirect and consequential losses) shall be asserted against Spacebib, its parent companies, affiliates, directors, officers, employees or agents from any and all losses, damages, rights, claims and actions of any kind resulting from the Contest and acceptance of any prize, including without limitation, personal injuries, death and property damage.